Double Girder EOT Cranes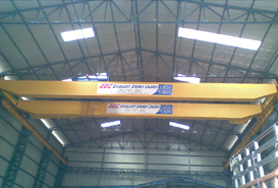 We are Manufacturer, Supplier, Exporter of Double Girder EOT Cranes, Double Girder Overhead Cranes and our set up is situated in Pune, Maharashtra, India. EHSPL manufactures Double Girder Overhead cranes in SWLs ranging from 1MT to more than 150 MT.

Double Girder Cranes can be offered for a very large range of spans, large range of heights of lift as well as a large number of speeds. They can also be provided with multiple hoisting trolleys running on the same bridge.

Precise control of up / down motion and / or travel motion can be achieved by fitting Variable Frequency Drives in the panels. We take immense pride to introduce ourselves as one of the trustworthy manufacturers of Double Girder EOT Crane.

Rugged structure, longer working life and easy installation are some of the superlative features of these cranes. We manufacture these EOT cranes for their use in various sector of industries.

Double Girder EOT Crane is manufactured under strict surveillance of our skilled workforce as per set industrial standards & norms.