PEB Structures ( Pre Engineered Building Structures ) - PEB Solutions
We provide PEB Systems, PEB Solutions, PEB Structures, Pre Engineered Building Structures as per client requirements and our set up is situated in Pune, Maharashtra, India. After range of technologically sophisticated and excellent Pre Engineered Building ( PEB ) structure, Excellent Handling Systems Pvt. Ltd. is one of the India's fastest growing Pre - Engineering Building PEB solution company, We design, Manufacture, Supply and Erect PEB Systems, Excellent EHSPL. is committed to provide the Customer with The quality Products and the services. EHSPL is excellence reflected in the long list of satisfied customer.
Over the years we have earned the trust of client & have carried out installation in various sectors. With its firm dedica tion, Honesty, & Practical approach the company has carved a special niche amidst the global market.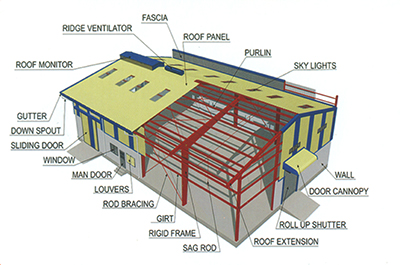 Building basic parameters : The pre - engineered building systems is fast growing segment globally. It has all the attributes of what the modern lifestyle demands. There are many applications for pre - engineered buildings.
Industry Applications
Factories
Offices
Logistics & Warehousing
Automobile Showrooms & Workshops
Textile Industry
Defense Structures
Plastics, Printing & Packaging
Institutional Buildings
Engineering Industry
Toll Plazas
Food, Pharmaceuticals & Chemicals Plants
Agricultural Building
Electrical & Electronics Industry
Aircraft Hangars
Advantages (PEB Service)
Reduced Construction cost & Time
Factory Controlled Quality & 100% Leak Proof
Virtually Maintenance free
Single Source responsibility
Fully Automated Welding Process Up to 16 Meters Length
Fastest Delivery Periods & Installition
Clean Span up to 100 Meters & Aesthetic Looks
Air Power Ventilator
Air Power Ventilator's vane are manufactured from high grade aluminum including the rivets and therefore highly resistant to atmospherics corrosion.
No power involved for its operation as its movement is controlled by natural wind movement / hot air draft (Thermos Syphoning).
The vane's are profiled and rolled to provide strong blade with good aerodynamic performances.
Air Power Ventilators are light in weight and hence operational at very lightly wind speeds.
Since no power involved for its operations, no recurring charges in terms of electricity.
The vane design and the centrifugal action prevent rain water from entering the ventilator.
Designed to be fitted easily on asbestos, galvanized, iron and aluminum roofs. Assured ventilation for 24 hours / 65 days.