Under Slung Cranes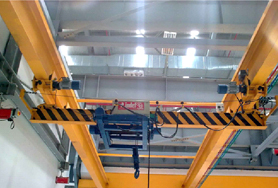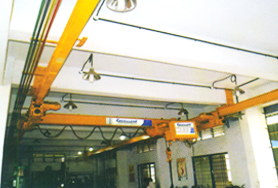 We are Manufacturer, Supplier, Exporter of Under Slung Cranes, Underslung Cranes, Underslung Overhead Cranes, Underslung Overhead Travelling Cranes and our set up is situated in Pune, Maharashtra, India. EHSPL manufactures Single Girder as well as Double Girder under slung cranes.

Such cranes find applications where the headrooms available are limited or the process requirements cannot allow any other means of supporting the crane except from the roof.

Majority of Underslung Overhead cranes are in the capacity up to 10 MT.
Precise control of the up/down motion and/or travel motion can be achieved by fitting Variable Frequency Drives in the panels (optional). Control can be either through a Pendant Push Button station or a Radio Remote Control (optional).
Range :
| | |
| --- | --- |
| Capacity; | 0.5 Tons onwards |
| Span | 3 Mtr. to 30 Mtr. |
| Lift | 3 Mtr. to 20 Mtr. |