Single Girder EOT Cranes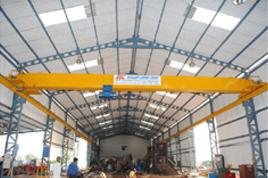 We are Manufacturer, Supplier, Exporter of Single Girder Cranes, Single Girder EOT Cranes our set up is situated in Pune, Maharashtra, India. EHSPL manufactures Single Girder Bridge Cranes in different configurations.

We also manufacture an underslung cranes, as per customer requirement. Decision regarding the configuration is made depending upon the shed dimensions and lifting requirements of the client. Our standard range of modular Electric Wire Rope Hoists is used on these cranes.

With the support of our highly experienced and skilled workforce, we are renowned as one of the well equipped manufacturers & exporters of Single Girder EOT Crane.

Clients appreciate these EOT cranes for their features such as excellent stability, light weight and sturdy structure.