Single Girder Semi Goliath Cranes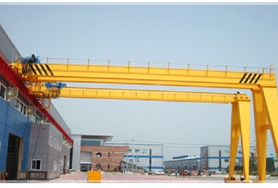 We are Manufacturer, Supplier, Exporter of Single Girder Semi Goliath Cranes, Semi Goliath Cranes our set up is situated in Pune, Maharashtra, India. Goliath / Gantry Cranes are self-propelled cranes running on rails installed at ground level. Such cranes are typically used at -

Specification

• Construction sites
• Ports and harbors
• Workshops where existing columns cannot bear the wheel loads of a bridge crane
• Workshops with low roof tie height that might restrict the height of lift of a regular bridge crane
• Locations where bay lengths are excessive
• Locations where bay lengths do not remain constant
• Sites / projects where the crane itself needs to be relocated from one place to another
• Locations where loads are to be shifted from points outside the crane span as in the case of an overhang on either side of the rails

We offer these cranes as per the technical specifications detailed to us by our clients at cost-effective prices. These cranes have the capability of up to 70 tone capacity. These cranes meet the specific dimensional clearance and technical need of the customer. Additional rigidity and strength can be achieved with the box type girder construction. Grabbing cranes can be applied in indoor and outdoor location and provided with grab buckets, electro-magnets, etc.

The goliath cranes has forged steel wheels, l-type housing and anti-friction roller bearings. Squirrel cage/slipping motor, totally enclosed oil lubricated helical gearbox, thruster brakes, geared coupling, rope drum, etc are the main parts of the hoisting machinery. With the help of pendant controller the goliath cranes can control from floor. The master controller or through radio remote control ensure the goliath cranes to control from driver`s cabin.

Cantilever arms can also be provided with the cranes. The goliath cranes find wide application in various industries such as general engineering industries, etc.